The first set of images of FY-3G released
---
Source:China Meteorological New PressAuthor:Liu Shuqiao Issued Date:2023-05-19
On May 15, the first set of images of FENGYUN-3G (FY-3G), China's first precipitation measurement satellite, was released to the public. The monitoring images of 6 payloads onboard FY-3G showed the three-dimensional structure of different layers of precipitation, which can enable better monitoring and forecasting of severe precipitation systems.
The Ku/Ka-band dual-frequency precipitation measurement radar is the main payload onboard FY-3G, which is mainly used for precipitation monitoring of severe weather systems. It can clearly observe the internal three-dimensional structure of precipitation systems like typhoon, rainstorm and blizzard. During a severe convective weather process in South China on May 7, FY-3G clearly captured the three-dimensional structure of the rain and cloud system.
Microwave radiometer onboard FY-3G has 26 detection channels, which effectively enhances the detection capacity of the satellite in terms of precipitation and atmospheric temperature and humidity profiles.
The visible cloud images captured by Medium Resolution Spectral Imager can clearly demonstrate the refined cloud top structure of convection cloud cluster.
GNSS Radio Occultation Sounder-II can receive occultation signals from Beidou and GPS. It can provide high accuracy and high vertical resolution atmospheric bending angle, atmospheric refraction index, atmospheric temperature, and atmospheric humidity profile in the troposphere and stratosphere for numerical weather prediction (NWP) and climate monitoring.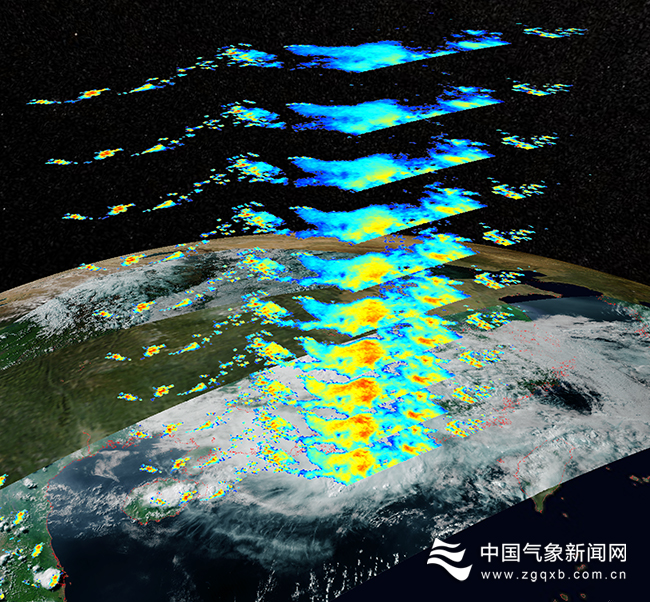 At 16:35 am on May 7, The Ku/Ka-band dual-frequency precipitation measurement radar onboard FY-3G captured the rain near Hainan and Yangjiang in Guangdong. The image showed the three-dimensional structure of the precipitation system from 3.75 kilometers to 6 kilometers from the surface. Credits: National Satellite Meteorological Centre of CMA
Short-wave infrared Polarized Multi-Angle Imager onboard FY-3G can be applied in identifying water and cloud, and reversing the effective radium of cloud droplet.
High Accuracy On-board Calibrator conducted in-orbit sun cross-calibration technical verification testing, and is equipped with the capacity to provide spatial radiation calibration criterion for other visible/near-infrared instruments.
At 9:36 a.m. on April 16, a Long March-4B rocket blasted off from the Jiuquan Satellite Launch Center in northwest China and soon sent FY-3G into its preset orbit. It is the third precipitation measurement satellite in the world which can realize proactive measurement. Since then, China has become the only country in the world which operates meteorological satellites in four near-earth orbits.
Editor: Liu Shuqiao